Laguna Percebu, San Felipe, Baja California
---
Bingham We have a couple trailers on a lot by the Sea of Cortez (the "Gulf of California" as we Gringos were taught in school) in the campo "Rancho Percebu" which is about 12 miles south of San Felipe. This is desert, pure and simple. Sometimes the wildflowers are in bloom, such as in the two pictures below. A majority of the time however it is much drier and browner.
---
This picture was taken by Bob Jones on June 3, 2010 on his way to his favorite fishing spot, Punta San Fancisquito, which is about 80 miles south of Percebu. Thanks Bob! Our lot, about 100 meters square, is highlighted.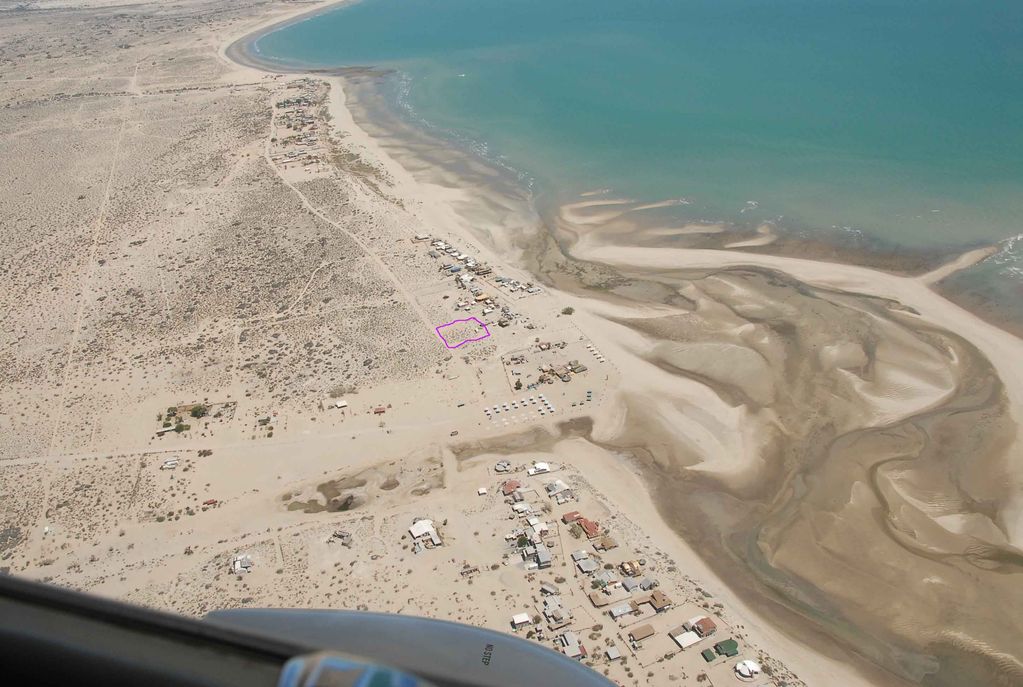 ---
One of our two trailers is the white one with the brown stripe in the foreground. Our lot extends from in front of our trailer to the road behind where this picture was shot. The two story brown house in the background (right) is Cheryl's father's. Dave owns his lot, while we rent ours for $500 per year. The Sea of Cortez is just beyond his house.
You can see by the following picture the difference between when everything is green (above) and when it is, well, not green (below).
---
This is one view just oceanward of David's house.
---
This picture shows both our trailers. We bought the larger one from Tom Maran, and my step father Ed gave us the smaller one. So this is our vacation home and guest quarters! Any takers? Everyone is welcome.
---
The homes in Persebu range from really nice, new ones with all the amenities of living in the US, to trailers smaller and older than ours.
The Sea of Cortez is very shallow in San Felipe. The tide goes out about 500' twice a day.
---
People drive on the sand when the tide is out.
---
This is us inside our trailer. Cheryl hates this picture.
Probably this one too . . .
---
Don Lupe, the owner of campo Laguna Percebu, lives on a ridge just away from where many of the home sites are located. He gets some better breezes up there, but it is still hot hot hot.
Bingham. Bingham. The picture below was taken in November of 2001 from Dave's upper deck looking back toward our trailer and the road. From left, Lorraine, Kevin, Cheryl, Bernice (Tim's and Mark's mom), Javier, Tim, Mark and I went down there. Cheryl had to work!
---
Yes, there is some consumption of alcohol when we go down there!! This picture (in Dave's house, April of 2004) shows Mark pouring, Penny getting ready to drink, and Dale -- as always -- supervising.
---
John doesn't drink. Honest.
And neither does Mark!
---
Balderdash is a favorite "Mexico game" of ours . . .
---
Cheryl's sister Rosie and her new husband Wes joined us down there in the Spring of 2007.
---
Sunsets are beautiful in the desert